If you've ever had chiropractic treatment, you know how beneficial it can be for reducing muscle stress and tension and relieving pain from musculoskeletal injury. But did you know that chiropractic care can also help your children? Pediatric chiropractic care can maximize your child's health and wellness during his formative years.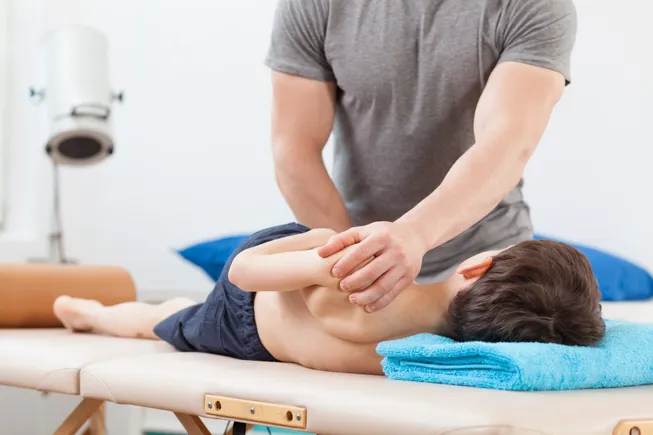 For your convenience, we offer pediatric chiropractic services to residents in Edmonton, Glastonbury, Lessard, The Grange, The Hamptons, Granville, West End of Edmonton, Dechene, Jameison Place, Anthony Henday South West, Donsdale, Ormsby Place, Lymburn, West Edmonton, Gariepy, Breckenridge Greens, Rosenthal, Secord, Edgemont, Woodhaven, and Cameron Heights.
How Pediatric Chiropractic Care Works on Behalf of Children
Pediatric chiropractic care works in similar fashion to chiropractic care for adults, only geared for children. Our Edmonton, AB, family chiropractor uses gentle techniques and therapies to treat spinal issues, keep your child's spinal system in balance and relieve muscle and joint pain from sports injuries. Your child will receive treatment within the safe, inviting atmosphere of our clinic. Children, like adults, are prone to spinal health issues. Adjustments focus on keeping your child's spinal system in proper alignment to improve body functions and movement.
Our Edmonton, AB, family chiropractor has ample experience working with children of all ages and will ensure your child has a positive, productive chiropractic experience. We'll start by giving your child a thorough physical exam to diagnose painful issues or establish weaknesses in his spinal health. This will enable us to create a treatment plan to suit his healthcare needs.
See Our Edmonton, AB, Family Chiropractor for Pediatric Chiropractic Care
To learn more about our pediatric chiropractic care services or to schedule a consultation for your child, contact Serenity Health & Wellness, Edmonton, AB, at (780) 486-0710.